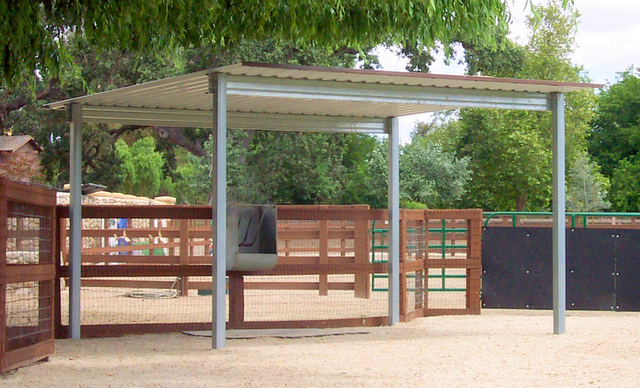 Our Spring, 2018 Update: Welcome to the EQ-Wine Covers® Company web site! As the largest supplier of Equestrian and Vineyard structures in the U.S.A., we are proud to offer a full line of metal buildings: Pasture Shelters, Hay Covers, Mare Motels, Carports, R.V. Covers, Crush Pad Covers, Ag Buildings, and much more! Remember that all of our shelters and buildings carry our limited lifetime warranty! Low cost delivery is available throughout California. Call us for pricing to your door!
We are happy to provide the most cost effective, easy to install metal structures available anywhere. Please use the buttons at the upper left, as well as the buttons at the bottom of each page to visit our twenty web pages of pictures and information. We hope you enjoy your visit to this site, and we appreciate any feedback you'd like to give us about the site. All of our products feature sturdy made in the USA Galvanized Steel components, optional painted roofing, and come as complete kits. You will receive all the necessary fasteners, complete instructions, high quality 4"x4" galvanized steel posts, purlins (cross beams), and high "box rib" roof decking. We can work with you to design an affordable, and easy to install kit. Our modular products allow you to customize any size kit from 18x18' on up to anything you want! Keep your vehicles covered, or your animals happy, all at an affordable price! We are based in Paso Robles, California, and we deliver within 150 miles of our location. You can will-call your order here, or arrange for shipment to your door. Click on the "will-call/weather" button at the bottom of this page for details if you wish to visit Paso Robles, and pick up your order. All prices quoted here are plus CA sales tax and delivery (if applicable) on our trucks. All photos on this web site were taken of EQ-Wine Covers Co. projects, and are subject to copyrights. EQ-Wine Covers is a Trademarked name, with all rights reserved, 2000-2018.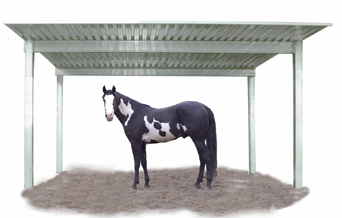 Steel prices are rising slowly, but we are holding our prices for now! It would be wise to lock in these low prices now, because by the Summer of 2018, the steel suppliers predict some price hikes... One of our best selling shelters is pictured above. This is the 18'x18' Classic Cover four post Pasture Shelter, which is now just $945. Both the 18 x18's, and the 15 x15's are supplied with 12' posts, they go into the ground about 2 1/2', set with concrete. Our kits features 4"x4" galvanized steel posts (in your choice of gauges from regular (16ga.), heavy (13ga.), to extra heavy duty (11ga., used only on very tall, and very large structures), high box rib roofing, all fasteners, trim, and detailed instructions. "Four post" 18' x 18' kits are wind rated to 85 mph winds, and have a #20 snow load rating. "Six post" kits have a 100 mph wind rating, and a #30 snow load rating. All prices are plus tax and delivery, if applicable.
Consider our Galvanized silver, 24' x 24' six post
cover, or the very popular 27' x 18' four post cover, perfect for
horses, hay, or 3 car parking- either one, now just $1395!!!
Be ready for the coming weather with an EQ-Wine Cover!
Call for details, and order before the
Summer heat kicks in!


Call us Monday thru Friday at
(805) 238-1632, or 1-(800) 980-BARN, from 10 a.m. to 5 p.m.
Please feel free to stop by our office at 1736 Riverside Ave.
in downtown Paso Robles. We are open 10 am til 5 pm,
Monday thru Friday.
Our several large outdoor displays and offices, are located
just North of Blake's Hardware, and just three blocks
South of the Mid State Fairgrounds.

All Major Credit Cards Accepted
EQ-Wine Covers Co. L.L.C
PO Box 276 Paso Robles, CA 93447
Phone (805) 610-5566 or
Local (805) 238-1632 or Toll Free 1-800 980-BARN
EQ-WineCovers.com
For Barns, Shelters, Mare Motels, Hay Covers, Carports,
and much more. Call for details, and let's get started!