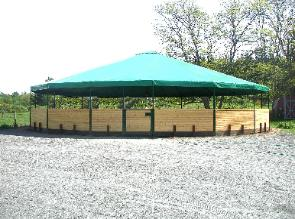 EQ-Wine Covers Co is proud to be the exclusive California dealer for this exciting new Round Pen Cover! It can be permanently installed, or installed as a portable cover. This makes it ideal for professional trainers, and those who plan on new properties in the near future.
These Round Pen Covers are designed to keep the harsh elements of sun, wind and rain at bay with the most attractive, durable, convenient, affordable round pen cover on the market today! We all know how detrimental rain and sun can be in our working areas. You will have a comfortable working area for you and your horse. Some of the best products and heavy duty hardware are used in the construction of this cover. Call us for more information at 805-238-1632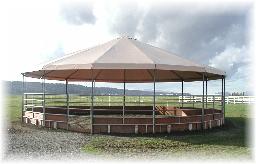 This cover shown in optional "sand"colored roofing, available at no extra cost. The frame itself is constructed of 2" schedule 40 black pipe, primed and then painted in the color of your choice. Many clients opt for custom colors to match their farm or ranch. The base frame is freestanding with an anchoring system that is cemented in your existing round pen.